UTAH SERVSAFE FOOD HANDLER COURSE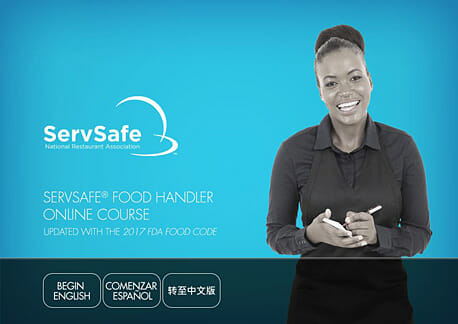 ServSafe 6th Edition Utah Food Handler Online Course and Assessment meets Utah Food Handler requirements. The law describes a food handler as anyone who is involved in the preparation, storage, or service of food.
Food handlers must have a Utah Food Handler Card to obtain a food handler permit from their local health department.
ServSafe Utah Food Handler Course covers 5 key areas:
Basic Food Safety
Personal Hygiene
Cross-Contamination & Allergens
Time and Temperature
Cleaning and Sanitation
30.00
15.00 Course fee + Utah Permit fee 15.00
Languages: English/Spanish/Simplified Chinese/Korean/Vietnamese

Exam Type: Three Attempts at the online assessment are included
Certificate: Valid for 3 years
Sections can be completed in approximately 10 minutes.
Color photographs from the learners point of view helps reinforce food safety concepts.
Enhanced assessment can be taken at the completion of training to measure if employees have the minimum competency in food safety knowledge.
Once the course has been purchased and launched, participants can select to take the course in English, Spanish, Simplified Chinese, Korean or Vietnamese.