ServSafe Food Handler Course and Assessment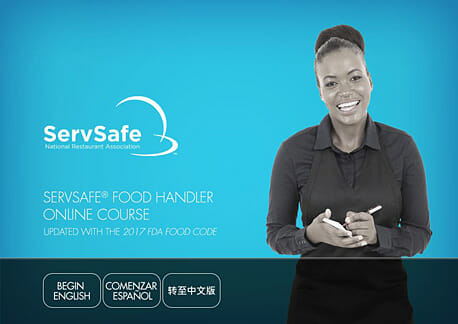 ServSafe Food Handler Online Course and Assessment is a comprehensive solution that delivers consistent food safety training to employees. This ensures the same food safety principles are delivered each and every time.
Covers five key areas
Basic Food Safety
Personal Hygiene
Cross-Contamination & Allergens
Time and Temperature
Cleaning and Sanitation
Languages: English/Spanish/Simplified Chinese/Korean/Vietnamese

Exam Type: 3 attempts at the online assessment are included
Certificate: valid for 3 years
Food Code: 2017 FDA Food Code
15.95
Sections can be completed in approximately 10 minutes.
Color photographs from the learners point of view helps reinforce food safety concepts.
Enhanced assessment can be taken at the completion of training to measure if employees have the minimum competency in food safety knowledge.
Once the course has been purchased and launched, participants can select to take the course in English, Spanish, Simplified Chinese, Korean or Vietnamese.
Our Food Handler Course is 100% online and self-paced, which allows you to start and stop at any time and as often as necessary to accommodate your schedule.


This ServSafe Food Handler Course taken online contains meaningful content informed by standards, information, and data published by the US Food and Drug Administration (FDA), Food Safety and Inspection Service (FSIS) of the US Department of Agriculture (USDA), the US Department of Health & Human Services (HHS), the Centers for Disease Control and Prevention (CDC), the Occupational Safety and Health Administration (OSHA) and State Public Health Departments.
"ServSafe® is a registered trademark of the National Restaurant Association Educational Foundation, and used under license by National Restaurant Association Solutions, LLC, a wholly owned subsidiary of the National Restaurant Association."