Maryland Food Manager Certification
ServSafe Food Manager – Maryland
Your ServSafe Food Manager Course is available nationwide
Obtain your Maryland Food Manager Certification from the safety and comfort of your home at your own pace.
ServSafe Maryland Food Manager Certification Home-study Course/ Remotely Proctored Exam
Your Certification is valid for 5 years upon successful exam results.
Maryland Food Manager Certification
Certify from home or office with the ServSafe Food Manager Certification Training and Exam
Available in English, Spanish, and Chinese


Earn Your Food Protection Manager Certificate (CFPM) From Home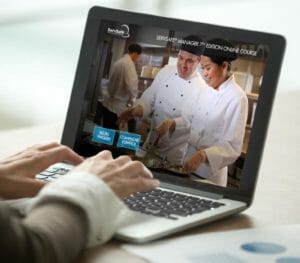 You receive:
Coursebook
Supplemental study materials
Online review
Self-grading practice quiz
Remote online proctoring through ProctorU
Single use exam access code- valid for 1 year
ServSafe Manager Exam with remote proctoring
FAQ's: Frequently Asked Questions
Prepare for the ServSafe Maryland Food Manager Certification exam from the comfort and safety of your home and when you are ready take the certified food protection manager exam right from home. You may schedule your exam for any date and time (24/7) that is convenient for you.
Things you should know BEFORE you order:
To take the remotely proctored exam, you must use a laptop or desktop computer (PC or Mac) equipped with a webcam and microphone.
Please Click here to do a basic system test.
Exams are available in English, Spanish, and simplified Chinese
Proctors give directions in English
Mobile phones and tablets are NOT supported
A working webcam/mic and a private location are required


After your purchase is complete, you will receive an email with an updated ServSafe Manager Exam Access Code and directions for scheduling your exam through ProctorU.
This product is non-refundable.
On Focus Solutions provides the Manager Certification Course and Exam nationwide.


The ServSafe Manager Online Course is for food and beverage managers, supervisors, inspectors, federal, state, and local public health officials, chefs, and anyone who requires food safety training.The ServSafe program provides food safety training, exams and educational materials to foodservice managers. Students can earn the ServSafe Food Protection Manager Certification, accredited by the American National Standards Institute (ANSI)-Conference for Food Protection (CFPM). The program blends the latest FDA Food Code, food safety research, and years of food sanitation training experience. Managers learn to implement essential food safety practices and create a culture of food safety. All content and materials are based on actual job tasks identified by foodservice industry experts. Trust the only food safety program with roots in the foodservice industry to help you protect customer health, improve employee performance and preserve business reputation. Training includes full 5-year valid certification, textbook, and National Certificate.
ServSafe Certification supports all those who are preparing for certification as a Food Safety Manager. This certification, which is accredited in the United States of America by the Conference for Food Protection and the American National Standards Institute, is a benchmark for the food industry and part of a global standard in food safety education.
The ServSafe Manager Online Course covers food safety issues, regulations, and techniques to maintain a food-safe environment. It will help you to better understand how handling food correctly is not only the law, but it improves safety and lowers cost as well
ServSafe Food Handler Course
ServSafe Responsible Alcohol Service